Bobbys big cash draws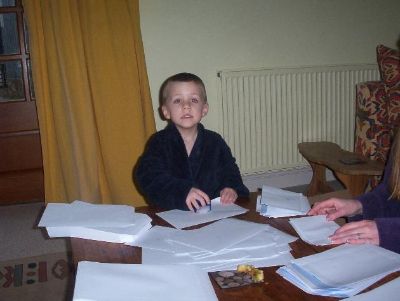 Bobby stamping the self addressed envelopes for the BIG CASH DRAW!
We now have our raffle licence from Teignbridge District Council.The draws have 20,000 tickets each with 15 CASH prizes per draw. Top prize is £1000, 4 of £250 each and 10 of £100 each. The tickets are £1 each in books of 5. The draw will be at The Royal Standard Hotel, Fore Street Shaldon on Friday 31st March at 8pm.
Please help us to raise this money quickly by phoning us on 01392 834856/7or 9 and we will send you tickets for you to sell to family friends and work colleagues.
The winners of the draw on Fri 16th Dec 2005 at the Royal Oak in Exminster in the order they were drawn are
£100 each to
J Hallett 15 Wilbury way Dawlish EX7 3AD ticket no 2470
M Soper 91 Cordery Road Exeter EX2 9DL ticket no 14310
W Shotter 134 Heavitree Road Exeter EX1 2LZ ticket no 17066
Dodge of Plymouth. When told he had won a prize he told Lynda to put the prize back into the fund. Just a name and mobile number on the ticket stub so no address. ticket no 2736
Mrs Claydon 2 Newhayes Close Exeter EX2 9JJ ticket no 8101
Ms Bond 26 Meadow Park Paignton TQ3 1NR ticket no 3405
Ticket with just Bobby on it Back into the fund. no 8512
P Bate The Linhay Kenn EX6 7UR ticket no 3121
Another with just Bobby on it.ticket no 18905
And another with just Bobby on it.ticket no 3262
£250 each to
D Hosgrove 22 Feniton Gardens Feniton EX14 3DG ticket no 3496
This man sent his cheque back to us. R Bastin 6 Cowick Hill Exeter EX2 9NG ticket no 9501
Ticket with just the word Donation, ticket no 13951
Ticket with just Bobby. ticket no 4155
The big one £1000 toI Murray 64 Brook Street Dawlish EX7 9AE ticket no 5934
We sold just over 14,000 tickets so our thanks to all of you who bought them. The next draw is on 30th March at the Royal Standard in Shaldon so please call to take tickets for your family friends and work colleagues.